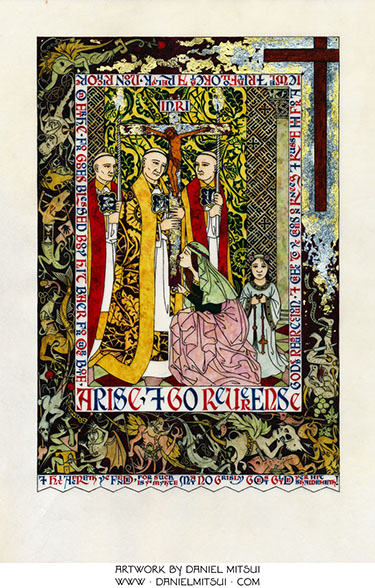 The text written in alternating red and blue letters around the inner border of the drawing and along the bottom is from
The Vision of Piers Plowman
, an alliterative Middle English poem attributed to William Langland:
Arise and go reuerense Godes resureccioun,
And crepe to þe croes on knees and kusse hit for a iewel
And rihtfollokest a relyk, noon richore on erthe.
For Godes blessed body hit baer for oure bote.
And hit afereth þe fende, for such is þe myhte
May no grisly goest glyde þer hit shaddeweth!
In the central image, I illustrated the liturgical rite of the Creeping of the Cross. In Medieval England, there were two occasions for this rite, one during the Mass of the Presanctified on Good Friday and one on the morning of Easter, after the crucifix had been disinterred from the Easter Sepulcher. It is to this latter occasion (the celebration of God's resurrection) that Langland refers; in the poem, he speaks these words to his wife Kate and their daughter Calote just after waking from his visionary dream. This is why I drew the priest and his two acolytes wearing festive copes, and Kate and Calote in their best Easter clothes. Calote holds a paternoster.
The damask pattern on the wall hanging and the priest's cope is my own design, and includes several Resurrection symbols: the Lion and his three cubs, the Pelican in her piety (both mentioned in the Bestiary) and morning glory vines; as well as more purely decorative flowers, fish, birds and newts. The morse on the priest's cope has a small picture of the Resurrection. The acolytes' morses depict Samson carrying off the Gates of Gaza and Jonah being vomited by the whale; these are the prefigurements of the Resurrection shown in the
Biblia Pauperum
.
On the back wall, a tile pattern in alternating indigo and sepia colors repeatedly spells out the words
Amen
and
Alleluia
, interspersed with crosses. This sort of squared lettering is more characteristic of Persian mosques than English churches, but I liked the way it looked nonetheless!
The apotropaic power of the Cross mentioned in the text is represented in the outer border by gold and palladium leaf surrounding the sacred wood. A horde of frightened fiends flee from it; these take obvious inspiration from medieval manuscript drolleries and the paintings of Hieronymus Bosch. I prefer this type of demon, compounded of disparate and nonsensical elements, as it illustrates the idea of evil being unreasonable and chaotic, and injurious to the ordered hierarchy proper to God's creation.
Read more
here
.
***
www.danielmitsui.com