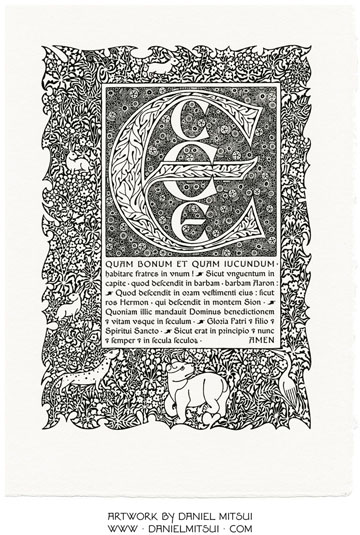 This
Millefleur Press
broadside of Psalm 132 (
Ecce Quam Bonum
) is based on two of my ink drawings on paper. Scans of these drawings, slightly enlarged and modified, were used to create the plate for letterpress printing. The typeface is Millefleur Benedict, which I designed myself. I used medieval spelling and punctuation in the text.
The text, translated, is:
Behold how good and how pleasant it is for brethren to dwell together in unity! As ointment on the head, which ran down upon the beard, the beard of Aaron: which ran down unto the hem of his garment: as the dew of Hermon, which descendeth upon mount Sion. Because there hath the Lord commanded blessing and life for evermore. Glory be to the Father and to the Son and to the Holy Ghost. As it was in the beginning, is now and ever shall be, world without end. Amen.
I formatted the picture like a verso book leaf. The border is composed of tiny plants and animals, resembling a millefleur tapestry. The versal containing the word
Ecce
includes stylized oak leaves and a background of tiny sand dollars and anemones.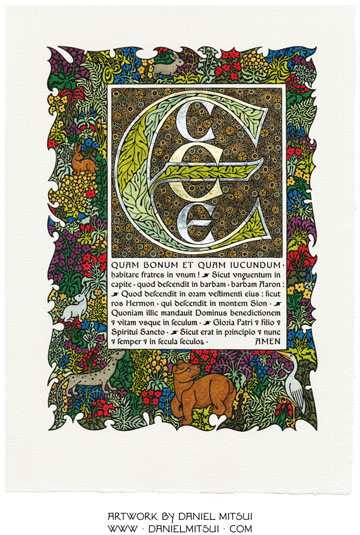 Read more
here
.
***
www.danielmitsui.com