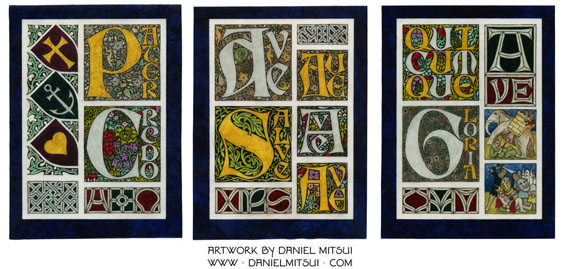 This is a set of three small drawings on calfskin vellum. Each measures approximately 3 1/2" × 4 5/8". I drew them using technical pens and calligraphers' inks applied with dip pens and brushes.
Included on these sheets are large versals of the first Latin words of six important prayers. There are also four smaller versals of the word
Ave
; heraldic emblems of the theological virtues of Faith, Hope and Charity; tracery and key patterns; and scenes of two prefigurements of the Crucifixion: the death of Eleazar Maccabee and the death of Codrus of Athens.
The original drawings are available for sale. See
this web page
for more information.
***
www.danielmitsui.com