I enjoy drawing designs for bookplates, the small, personal prints that are pasted into the inside front covers of books to identify their owner.
I never gave any thought to designing bookplates until I received a commission to draw several, as gifts for a patron's children. These were noticed by Lew Jaffe, a bookplate collector in Philadelphia who runs the
Confessions of a Bookplate Junkie
web log. It was through his support of my work, and by entering several international competitions, that my reputation as a bookplate artist was established.
Here is
an interview from 2014
that I did for the aforementioned web log. During our conversation, Lew said:
My sense is that you have completed and have been paid for more bookplates over the last four years than any other American artist.
To me, that is pretty remarkable, since bookplate design has never been my foremost artistic occupation.
It is something that I really enjoy, and that has helped me enormously as an artist. It was by investigating ways to print bookplate designs that I came to understand letterpress printing as the best way to reproduce my artwork. I may never have had the idea to establish
Millefleur Press
otherwise.
Requests for custom bookplates also add some variety to my artwork. I love receiving a commission that includes some off-the wall challenge, like combining in a single design lemurs, Bauhaus architecture and Valeska Gert (and somehow making it my own). Or drawing treasures from a collection of Jewish artifacts, with a Gorilla included somewhere.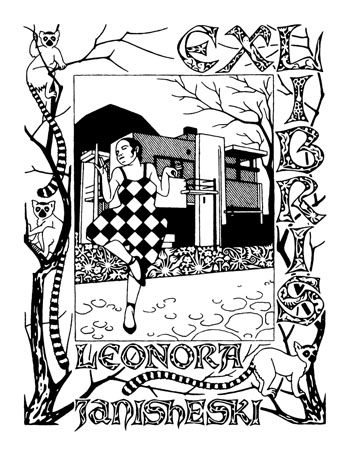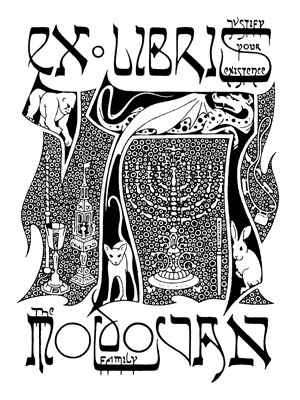 My favorite choice for a bookplate subject must be this illustration of an event in the life of St. Francis of Assisi:
Another time, when blessed Francis was sitting near a fire, warming himself, the same one spoke to him again about a psalter. And blessed Francis told him: After you have a psalter, you will desire and want to have a breviary; after you have a breviary, you will sit in a fancy chair, like a great prelate telling your brother: Bring me the breviary. And speaking in this way with great intensity of spirit, he took some ashes in his hand, put them on his head rubbing them around his head as though he were washing it, saying: I, a breviary! I, a breviary! He spoke this way many times, passing his hand over his head. The brother was stunned and ashamed.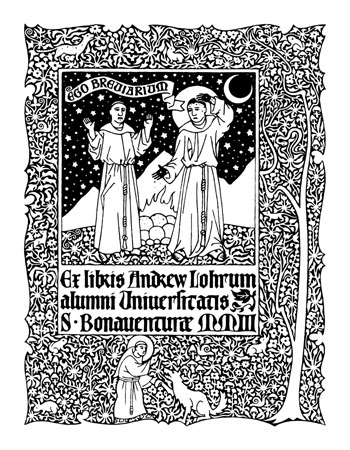 You may see many more of my custom bookplate designs at
this web page
.
***
www.danielmitsui.com