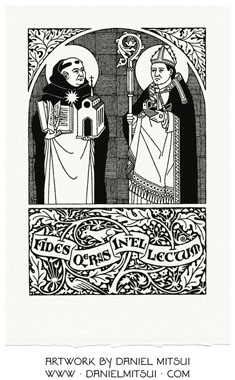 This broadside of St. Thomas Aquinas & St. Anselm of Canterbury measures 4 1/2" × 6 3/4". It is based on two of my ink drawings on paper. Scans of these drawings, slightly enlarged and modified, were used to create the plate for letterpress printing.
I drew these two great theologians with their traditional attributes: St. Thomas Aquinas wears his Dominican habit and holds a book of his writing and a miniature church. A sunburst shines on his breast. St. Anselm of Canterbury wears episcopal vestments and carries a crosier and a miniature ship.
Below them, a stylized vine and tiny plants and animals surround a banderole, on which is written
Fides Querens Intellectum
(Faith Seeking Understanding), the personal motto of St. Anselm and the general motto of all scholastic theology.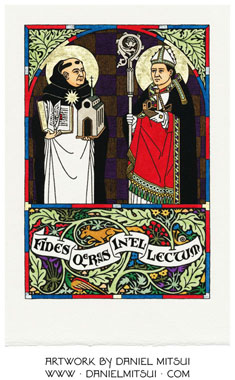 Read more
here.
***
www.danielmitsui.com